Episode 10: "Meet The Parents"
Part One
Grier Household, Barnett Pond

"Mama loves to talk about her trips to Europe. Since you go away on business there all the time, that would be a great icebreaker," Adam was busy throwing suggestions on conversational topics to Stacia as he pulled the car into the driveway of his parents' house. "Just be your beautiful self, and my parents will love you!"

"You know I haven't done this before, this whole meeting the parents business," Stacia kept her seatbelt fastened long after Adam turned off the car engine.
Adam unfastened his seatbelt and took her hand. "I love you and I want us to be together forever. That means I want to include you with everything that I cherish in life, and that includes my folks. You're going to have to meet them sometime and it's about time you finally did." He leaned forward and kissed her tenderly.
"I love you too," Stacia whispered, feeling her anticipation subside with his touch. "I'm ready." She unsnapped her seatbelt as Adam got out to help her out of the passenger side.
"Adam! Welcome home, sugar!" Stacia turned to see Adam's mother standing on the front porch. Adam took Stacia's hand to led her to the porch. "It's so nice to finally meet you, Stacia. You're as beautiful as Adam said you were. Come closer so I can get a good look at you!" As Stacia drew closer, she felt her hands grow cold and clammy. She smiled as hard as she could at Adam's mother, who greeted her with the warmest of smiles. Stacia recognized her smile as Adam's echoed the same, as did the rest of Adam's face. His mother also wore her hair short, pixie style, with only a hint of makeup on her cocoa colored skin. She wore a simple power blue blouse and khaki pants. When Stacia finally stood before her, Mrs. Grier took her hands in hers, shaking them firmly. "Oh, what the heck," She laughed and embraced Stacia, who smiled in spite of herself and hugged her back.
"Thank you for inviting me to your lovely home," Stacia said gratefully when they broke from their hug. "I've been so busy with business trips-"
"Oh, it's fine, my dear, we understand how it is," Mrs. Grier interrupted. "It's so wonderful that Adam has finally brought his girlfriend to us, we were starting to think Adam wanted to hide you from us," She laughed. Stacia gave Adam a quizzical look.
Adam smiled back weakly. "Mama, please," Adam pleaded with her, "You know that's not true."
"I'm just teasing! My, you must really love her to be so quick to defend. Adam's father is setting the table right now. Come on in you two," Mrs. Grier opened the front door wider and walked inside. Adam and Stacia looked at each other. Adam gave her an encouraging nod and followed his mother. Stacia took a deep breath before finally crossing the threshold.
---
Part Two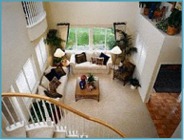 Lana's Place, El Patio Apartments

"Jake? Hey, you're here early." Lana opened the door to find Jake standing on her front step. "Come on in!"

Jake stood before Lana, still wearing his business attire but with his necktie undone and draped around the collar. His hands were stuffed down the pockets of his pants, a grimace shaded his flushed face, and his eyes gazed at her longingly. "Lana, I really need to talk to you." He took one hand out of his pocket and gripped the doorway tightly.
Concerned, Lana took his free hand. "What is it? Is something wrong? Look, if you really want the Hendrix album back, I'll understand..."
"I got laid off today, Lana," Jake blurted out, his eyes now flashing with anger. "I lost my job..." His voice cracked as he tried to choke back a sob. Lana couldn't believe her ears and felt sorrow stricken her heart. She wrapped her arms around Jake, who in turn held her against him, his head resting on her shoulder. Lana stroked his honey blond hair and Jake continued. "They're overstaffed. I was the expendable employee. Three years of hard work, tossed aside for someone else's six-months experience. Damn them, Lana. Damn them all!" He breathed hard, shutting his eyes in hopes of closing off the pain.
"Jake, Jake, look at me," Lana pulled away to look in straight in the eye. Jake opened his eyes. "Don't say that. You have to be the better person here. You need to be strong. You're going to pull through this, I know it."
"I loved my job. The Tribune is the only newspaper in town. I don't want to move, this is my home..."
"Don't talk like that. You'll be fine, trust me. You're an experienced writer, you can find a job doing other kind of writing. You'll land another job, a greater job, that'll accent every strength you have and you'll blow all the readers away. Believe me, the Tribune will wish they never got rid of you. Trust me!" Lana tried to assure him of the brighter side, her dark blue eyes lightened with hope and conviction.
Jake looked back at Lana, relieved by his decision to turn to her. "You think so?" He asked hopefully.
"Yes, I really do. Hell, the stupid newspaper did nothing but stress you out. This could be a nice change. Try something new for your career. Or take some time off to relax, maybe."
Jake nodded, slowly beginning to see new possibilities. "Well, I'll look around town for job openings. If I can't find anything I like, I can always get back into to training and try out for the Tempests." His face lit up at the thought of pitching again. Baseball had always been one of his greatest joys but he had to give up playing after injuring his shoulder. But if Ray Howell can make a comeback, so could he. "You've always supported me, Lana, you're like the Alfred to my Bruce Wayne...the Merlin to my King Arthur..."
"You're making me sound like some trusty sidekick, for heaven's sake," Lana playfully shoved him away. "If anything, I'm the Sancho Panza to your Don Quijote, minus the donkey and the pudginess."
"But wouldn't that make me delusional?" Jake frowned at her comparison. "Doesn't that mean I fight windmills?"
"You compared me to Alfred! Isn't he like seventy-years old? He almost died in the last Batman movie, if you don't recall!" Lana pointed out defensively, frowning back at him.
"You're right, you're right. Well, you get the picture." Jake pulled Lana back into his arms. "Anyway, thanks. Thanks for being here for me." Jake's crystal blue eyes regained their familiar sparkle as he looked down at her and gave Lana usual his high-wattage smile. Inside, his spirit plunged inherently into disappointment and anxiety. Though Lana held a very convincing ground, Jake's lack of self-confidence ran deeper than he would ever reveal.
---
Part Three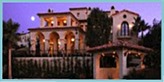 Blake Manor, Hyde Park

"If Simon Pratt didn't get on my nerves so much, I'd try to warm him up again," Kendra examined her nails closely before setting to work with her nail file. "I could understand if Jake Herrington was Bryce's cousin, but Simon? He's too rugged, too vulgar, and way too cocky for his own good. Nina, are you even listening to me?"
Nina jumped at the sound of her name. She sat at Kendra's computer, re-visiting the Regions website to find that her deposit had gone through to her account, but paying off rent and part of her credit card bill had left the balance dangerously low. Tomorrow, I'll just withdraw another check. Pay Day is coming up and it'll be like nothing ever happened. Nina smiled innocently. "Yeah, you despise Simon Pratt, but desire his cousin Bryce McKeon. I get it," She logged out of her account and onto the account of Grayson Realties. "You do have exquisite taste, Kendra, I have to admit. Clothes, decor, and men. He's definitely worth the pursuit."
Kendra smiled at the compliment. "He is, isn't he? He's rugged too, but in this sexy, manly way. I know Simon's a wimp deep down, but Bryce. Oh, God, those muscles just wreak of stamina, longevity, nobility. I like that. He has this determination to him, I can tell. Athletes usually don't choose difficult majors in college, I should know having dated a couple of them myself. But architectural engineering, now that tells me he likes a challenge." She giggled with pleasure. "Already we have so much in common."

Nina concurred. "Well, he's quite the businessman, Kendra. We signed him to three different projects for Grayson Realties. The post office in Barnett Pond, the new apartment complex in Palm Terrace, and the restoration of Hillard House in Town and Country."
Kendra sat at attention. "You talked to him? You spent time with him at the Realty?" Nina nodded. "Why didn't you tell me? Oh, God, what did he say? Did he ask you about me?"
Nina shot her a bewildered look. "Kendra, he didn't even know who I was a couple of days ago. Besides, he only talked business when he was at the office. But I did get a good look at him, yes. He's built like a Greek god, with the most beautiful ass to ever grace men's cotton slacks." She took one look at Kendra, whose face displayed the most intent engrossment, like a kid eyeing his or her favorite piece of candy in the palm of her hand. "Kendra, sweetie, I'm just telling you that you're right. He does seem pretty determined, focused, serious, which I don't understand since you usually like guys with the careless, bad boy streak. He seems like a straight shooter to me."
"Well, my taste has come a long way." Kendra huffed. "I'm tired of reckless boys. I'm ready for my knight in shining armor. And Bryce fits into that armor better than any other man. I guess I'm going to have to appeal to him in another way, aren't I?" She stood from the French silk upholstered sofa and proceeded to the door of a balcony overlooking the land behind the manor. "Blue collar worker, huh? Well, I'm interested in working with him, in more ways than one." A sly smile crept over her face as she looked down at a large open space of land fifty yards from the pool house. "I've always wanted a guest house on the manor."
* * * * *